Carla Najar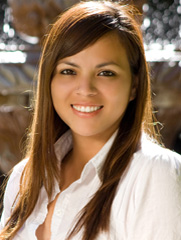 Carla Najar
Project Director/ Moderator
What makes you a Culturati?
My willingness and ability to admire other cultures, contemplate other ideas, embrace and adopt other lifestyles, and the ability to incorporate these pieces into my personality translate into one word for me – culturati.
How did you discover your Culturati nature?
At age 18, I moved to Los Angeles. Such cosmopolitan city opened up my eyes to see the world differently. It made me aware of things that were always there but had never cared to explore. It made me learn new things at the "speed of light" and wake up to the idea that the world goes way beyond from where my eyes–and my mind ? can go.
What type of Culturati are you?
I am the "hungry" culturati – hungry for knowledge.
What makes you a strong Culturati moderator?
My sense of organization, planning, along with the ability to think ahead while handling continuously changing situations with internal and external clients strengthen my coordinating skills.