Cynthia Tello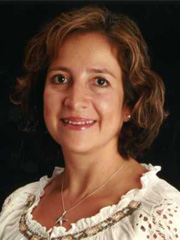 Cynthia Tello
Project Director/ Senior Moderator
What makes you a Culturati?
From a very young age, I have always been interested in cultural believes other than my own. It has always been fascinating to see how people have different perspectives, ideals, and values shaped by their own cultural background. My interest in other cultures was further ignited by the opportunity to travel to different countries (as part of Mexico's National Synchronized Swimming Team). Such interests continued to grow through my experience of living, working and studying in different countries, such as Mexico, the United States, the United Kingdom, Slovenia and Switzerland. After living in the U.S. for 5 years, my interest has shifted to different ethnic groups within one country, such as Hispanics. I am fascinated to see how a new culture has developed from the combination of the American and Latin culture, often creating a dilemma of wanting to belong/fit in this new country, while keeping their heritage alive. I consider myself a living proof of such dilemma, especially now that I have two U.S.-born children.
How did you discover your Culturati nature?
My parents had a big role in exposing me to different cultures, as well as teaching me to appreciate the richness of their culture (as much as the richness of my own culture) and respect the differences. However, there was something already in my wiring that made me very receptive to it and continue pursuing it by my own initiative.
What type of Culturati are you?
I am a balanced Culturati as I have always juggled many things at once and continuously strive for equilibrium in all important aspects of my life.
What makes you a strong Culturati moderator?
I have extensive marketing and advertising experience in Consumer Goods, as well as a strong business orientation with a deep understanding of the financial implications of the marketing mix. This professional experience, together with a versatile moderating style that allows me to quickly build rapport, enable me to effectively communicate with, and understand, consumers of all backgrounds and ages, while generating genuine and actionable consumer insights. Prior to joining Culturati, Cynthia was an Account Supervisor with Bromley Communications, one of the leading Hispanic advertising agencies in the U.S., working with key P&G and Nestlé brands. My experience is international in scope and includes a number of industry categories (including Consumer Packaged Goods, Pharmaceuticals, Telecommunications and Automotive), markets and consumer profiles. Furthermore, I am of Mexican descent, as well as fully bicultural and bilingual. Lastly, I hold an MBA in International Business from the University of Bristol, UK, and a BA in International Relations from La Universidad Iberoamericana, Mexico.