Elisabeth Posadas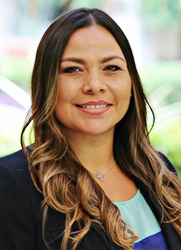 Sr. Project Coordinator
What makes me Culturati?
The definition of Culturati is: people interested in culture and multicultural activities.?
One of my deepest passions in life is traveling and learning about cultures and their customs, not only learning them but embracing them to the fullest. I have traveled extensively through-out Europe, Latin-America, Mexico, Canada and the Caribbean. These experiences have enriched my life in so many ways by becoming more open-minded, kind, appreciative, authentic and realizing that life has endless possibilities.
How did you become or discover you were Culturati?
Since I was a young child I remember spending my summers in Mexico City with my family and totally indulging in my Mexican heritage. Then as I got older, all I dreamt about was to travel the world as much as I could before getting to an age that physically can't allow me to.
What type of Culturati are you?
Although I grew-up in the United States, my household and culture was very Mexican, everything from food to music and television. We only spoke Spanish at home with my mother, grandparents, aunts and uncles. I was definitely a bilingual and bicultural youngster and now adult. My social circle most of my adult life has been surrounded with people of many kinds of ethnicities and cultures. Diversity in my environment has always been very present.
What makes you a strong Culturati Coordinator
My professional experience combined with my personal experience has allowed me to hone my cross-cultural adaptability and interpersonal skills and communicate effectively in both English and Spanish in the professional arena. My expertise lies in being creative, building strong clients relationships, project management, having an innate talent to analyze and think outside the box. Learning about the Hispanic buying power and along with their behaviors through research allows me to partner with our clients and give them the best results to help them achieve growth for their brands.