Ivanna Alvarez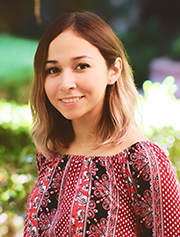 Qualitative Project Coordinator
What makes you a Culturati?
Growing up in Southern California has shaped me into becoming the Culturati I am today. Living in such diverse region has allowed me to be more accepting of diversity. As a child I was also taught to respect and learn about various cultures. I am very eager to travel more and be appreciative of what each city or country has to offer.
How did you discover your Culturati nature?
I discovered my Culturati nature through my appreciation of art and music from various cultures. The environments I have been exposed to have made it possible for me to learn about different genres of music and different art forms. This has made me thirsty for wanting to learn more about culture through the arts.
What type of Culturati are you?
I'm an artistic Culturati. I appreciate different forms of expression through art and music. I enjoy expressing myself through these art forms.
What makes you a strong Culturati Researcher?
Through my experiences I have learned that everyone has a voice. All humans want to be understood and accepted for who they are. Therefore, I have developed strong listening skills, and I have become a more compassionate individual. These character traits have allowed me to be successful in my career and personal life. This makes me a strong Culturati researcher.