Maggie Mariscal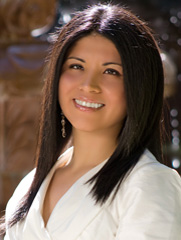 Digital Marketing Consultant
What makes you a Culturati?
I had the fortune of living and attending school in both the U.S. and Mexico and lived in the border region most of my life. This experience gives me the opportunity to truly live a bicultural lifestyle that has defined me all my life. Not only do I love to learn about other cultures and to experience them, I also enjoy borrowing bits and integrating them into my persona and lifestyle. My curious nature allows me to take full advantage of the multicultural environment that I live in and defines my mindset.
How did you discover your Culturati nature?
I have always been interested in learning about different cultures, including my own, but my first international trip definitely marked a pivotal point in my life. About eight years ago I took an amazing exploratory vacation to Costa Rica, Panama and Peru, which ignited my travel bug and my desire to experience as many cultures as I possibly can. Since then, I have immersed myself into many cultures either through my travels or at home via books, conversations, events and friendships.
What type of Culturati are you?
I am definitely a humanitarian Culturati, on any given day you can find me working on my non-profit's next move or at an event supporting other causes. However it may be, I am dedicated to living a balanced life and helping to make this a better world for everyone.
What makes you a strong Culturati Leader?
My Culturati nature and passion for learning help me thrive in digital marketing. Most of my professional background is in marketing, but I have learned a little of many trades thanks to my community involvement, internships, travels and to my experience as founder of Power of Change Foundation. I hold a BS in Business Administration with an emphasis in Marketing from San Diego State University and a dual MBA from Georgia State University and the IAE de Paris – Sorbonne Graduate School of Business.