Valeria Avila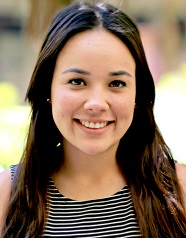 Assistant Online Research Manager & Project Coordinator
What makes you a Culturati?
My enthusiasm to learn about other cultures, traditions, and customs is what makes me a Culturati. I love understanding and admiring cultural differences. I have been lucky enough to travel to different places in the world and I never get tired of learning new things!
How did you become or discover you were a Culturati?
I grew up in a border town, so at a very young age I was exposed to a bicultural lifestyle. I was always intrigued on how different people would be just by crossing the border between the U.S. and Mexico. When I moved to San Diego for college my passion to learn about other cultures increased. This move really opened my eyes and made me realize how big and diverse this world is.
What type of Culturati are you?
I am a traveler Culturati, I like visiting other countries and really immersing myself into their culture and traditions.
What makes you a strong Culturati online researcher?
My education and previous work experiences is what makes me a strong Culturati researcher. I am always willing to lend a helping hand in hope of learning something new in the process. I have developed strong skills to always deliver work to the best of my ability and I am always willing to go the extra mile.