Zarella Garcia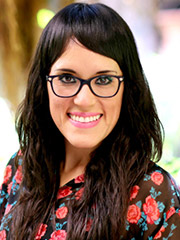 Associate Project Coordinator / Adaptation Specialist
What makes you a Culturati?
Having been born in the U.S. and raised in Tijuana, B.C. makes me a Culturati by heart. Ever since I was young I have experienced a deep immersion from two different worlds, contrasting traditions, and unique beliefs. As a result, I have a profound interest in culture and communication; language influences greatly how we see the world and plays a big role in transmitting cultural values from one generation to the next. Up until this day, I find it exceedingly attractive meeting people from various countries and learning about their distinctive communication behaviors, spiritual practices, holiday traditions, food habits, values, sports, and way of life.
How did you become or discover you were a Culturati?
I have been lucky enough to travel all over the world and engage myself in foreign cultures and exotic traditions from Europe, Asia, and South & North America. Through these memorable experiences, I have gained a deeper understanding in how diverse and unique our world is and how culture is defined. At the moment, I am constantly motivated in visiting other countries and focused on taking my fascination towards culture and communication to the next level.
What type of Culturati are you?
I am a passionate, adventurous, and joyous Culturati. As mentioned, throughout my life I have been able to visit different parts of the world and experience unique events. For instance, I was at the Vatican City when Pope Jean Paul II passed away and the new pope was elected at the Sistine Chapel. It was a historical event worldwide and I was fortunate to participate in the church service and feel the pain and sadness. The Vatican City and Rome were dressed entirely in black. It is a moment I will never forget because we couldn't leave the country, all airports and train stations were closed. As a result, I got more involved with the Italian culture, their religious customs, and got to witness something unexpected. Being able to see the best possible outcome out of any situation by focusing on what is important and capturing the good times has given me the opportunity to be satisfied with every moment I have lived.
What makes you a strong Culturati coordinator?
My Latin upbringing, clear understanding and the endless love I have for culture and communication all make me a strong Culturati coordinator. I spent all my formative and adolescent years in Tijuana, but attended college in the U.S. I hold a Bachelor's Degree in Communication Studies with a minor in Marketing from California State University, Long Beach. My education and cross-cultural life experiences have given me a unique set of skills that enable me to effectively understand and respect every culture, as well as to communicate effectively. Furthermore, I believe that my passion and confidence encourages others to work cooperatively in the coordination department and to continue to push Culturati further to success and build greater partnerships with companies around the world.