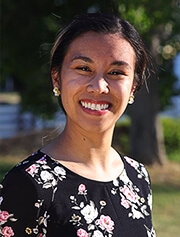 Graphic Designer
What makes you a Culturati?
Like many others on our team, I am a Culturati by birth. My awareness of my multicultural experience was extremely apparent from a young age, being born in San Diego and raised in a Filipino family. As I grew older, my passion and interest in global cultures blended seamlessly into every aspect of my life. It has influenced everything I consume, from art, music, movies to food!
How did you discover your Culturati nature?
I first discovered it in high school, when I realized that I had an affinity for learning languages. This instilled the idea in me that the more languages I study, the more people I can communicate with in the world. Eventually, my dreams and goals drifted beyond the bounds of my comfort zone, and brought me to the decision to pursue my college education in Japan. My Culturati nature was truly solidified the second I landed in Japan, and fully immersed myself in the language, culture and lifestyle.
What type of Culturati are you?
I am a Culturati foodie. The easiest way for me to connect with other cultures, or re-connect to my own Filipino culture, is through food. When I watch my mother cook my favorite dish, when my family gathers around the table, when the laughter and conversation is endless and warm—it's during these moments where I feel the most connected.
What makes you a strong Culturati Graphic Designer?
Living, studying, and working in Japan developed my skills in design, communication and cross-cultural understanding. It widened my awareness of the world, showing me the importance of being open to new ideas and perspectives. After receiving my BA in Art from Temple University Japan, I went on to work at a graphic design studio in Tokyo. There I gained experience in the design process as a whole: from research and strategy, design development, to final application. Working with our deadline-driven clients made me extremely adaptable to change. I also learned how to express my design sensibilities in the context and culture of each different project I worked on. My experience in Japan, has shaped the way I approach my designs in America, and is what makes me a strong Culturati Graphic Designer.