Sahian Quezada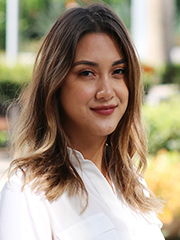 Coordination Group Supervisor
What makes you a Culturati?
My passion for culture and diversity; I enjoy learning about other cultures and teaching others about my own. Having the opportunity to relate this to my work is definitely one of the things I enjoy most at Culturati.
How did you discover your Culturati nature?
Growing up in Mexico I noticed there wasn't much diversity. When I moved to the U.S., I started meeting all kinds of people from different backgrounds; this woke my curiosity and made me appreciate everyone's different ethnic background so much more. Then, I got to travel abroad and I really got to experience other traditions and languages; which have only made my "Culturati nature" grow stronger.
What type of Culturati are you?
I'm a curious Culturati; I enjoy learning about new things and I always keep an open mind.
What makes you a strong Culturati Supervisor?
Having received a BS in Business Administration has prepared me for the role; however, the experience I have gained while working here is what makes me a strong coordinator. I have been able to grow my project management skills, problem solving skills, and my interpersonal skills. In the short time I have been at Culturati I have learned so much, and I look forward to keep finding ways to improve as I continue to learn.